---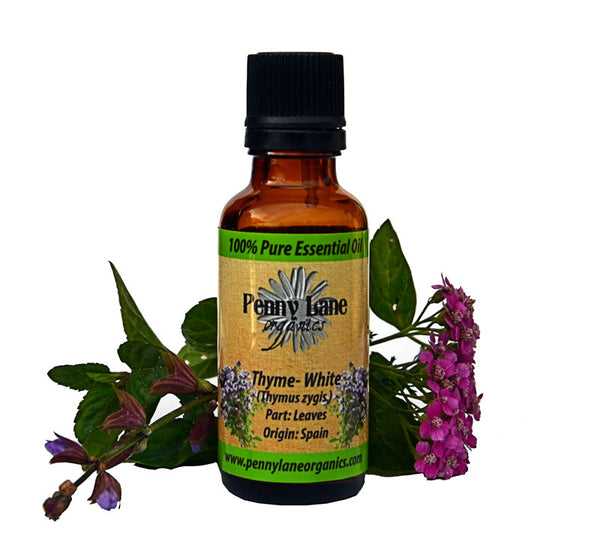 Thyme Essential Oil 30 ml
Regular price $23.00
Thyme:
Botanical Name – Thymus Satureioides
Origin: Morocco
Directions for Use
Diffusion: Use three to four drops in the diffuser of your choice.
Internal use: Dilute one drop in four fluid ounces of liquid.
Topical use: Apply one to two drops to desired area. Dilute with a carrier oil to minimize any skin sensitivity.
Cautions: Keep out of reach of children. Possible skin sensitivity. If you are pregnant, nursing, taking medication, or have a medical condition, consult a health professional prior to use.
Storage: Keep in a cool, dark place
Processing Method: Steam Distilled
Size: 30ml
About: Thyme Essential Oil has been used effectively as a bactericide, antiseptic, antimicrobial, astringent, antispasmodic, antitoxic, diuretic, antifungal, insecticide, tonic, and as an immune stimulant. Thyme Oil can assist with nervous complaints, respiratory problems, poor circulation and problems of the digestive system. It should also be noted that the active ingredient Thymol may crystallize in temperatures below 20 degree Celsius.

Blends With: Bergamot, Grapefruit, Lemon, Lavender, Rosemary and Pine.
All of our essential oils are true, undiluted essences extracted directly from a variety of flowers, fruits, leaves, barks, roots, herbs and spices. 
The information contained on these pages is not meant to serve as a medical or professional advice. We are not responsible  for any products made using these oils or the outcome of any application thereof. As always we recommend testing all products first and  avoid using essential oils in pregnancy or on the young children.
Top FIVE essential oils every home should have....