---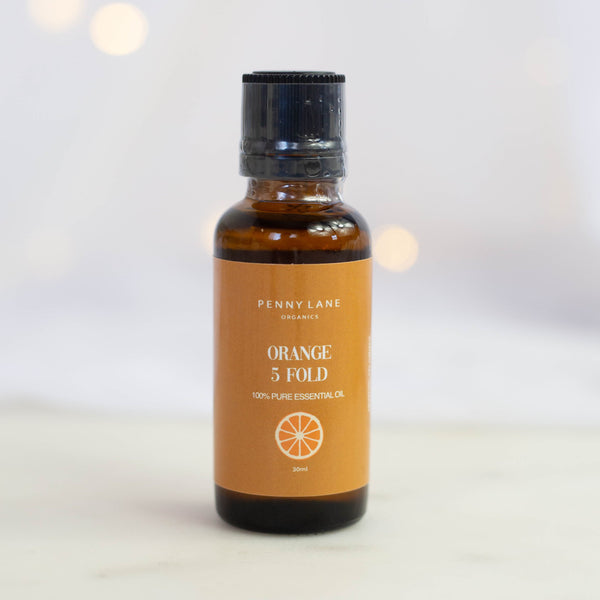 Orange 5 Fold Essential Oil 30 ml
Regular price $13.99
Orange:
Botanical Name – Citrus Sinensis
Origin: USA
Directions for Use
Diffusion: Use three to four drops in the diffuser of your choice.
Internal use: Dilute one drop in four fluid ounces of liquid.
Topical use: Apply one to two drops to desired area. Dilute with a carrier oil to minimize any skin sensitivity.
Cautions: Keep out of reach of children. Possible skin sensitivity. If you are pregnant, nursing, taking medication, or have a medical condition, consult a health professional prior to use. If contact with skin occurs, avoid direct sunlight or UV rays for up to 12 hours.
Storage: Keep in a cool, dark place
Processing Method: Cold Pressed
Size: 30ml
About: Orange Five Fold Essential Oil can be used as antidepressant, antiseptic, antispasmodic, aphrodisiac, carminative, cordial, deodorant, digestive, stimulant (nervous) and tonic (cardiac, circulatory). It has also been applied to combat colds, constipation, dull skin, flatulence, the flu, gums, slow digestion and stress. The increased concentration of the essential oil fragrance makes the oil perfect for soap & candle making.
Blends With: Bergamot, Cinnamon Bark, Clary Sage, Clove Bud, Lavender, Lemon, Myrrh, Nutmeg and Sandalwood.
All of our essential oils are true, undiluted essences extracted directly from a variety of flowers, fruits, leaves, barks, roots, herbs and spices. 
The information contained on these pages is not meant to serve as a medical or professional advice. We are not responsible  for any products made using these oils or the outcome of any application thereof. As always we recommend testing all products first and  avoid using essential oils in pregnancy or on the young children.
Top FIVE essential oils every home should have....