---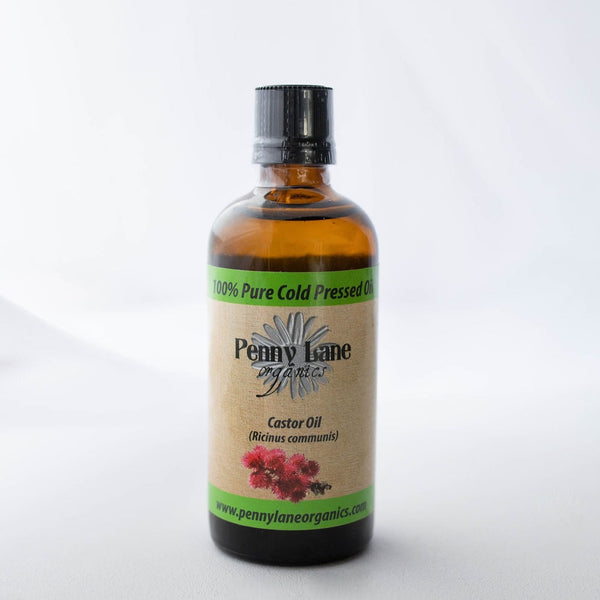 Castor Oil - 100 ml
Regular price $13.00
Botanical Name: Ricinus communis
Extraction Method: Cold Pressed
Processing Type: Unrefined
Obtained From: Seeds
Hexane Free
Castor Oil is used in many medicinal and curative procedures as well as in in massage therapy, aromatherapy, and in manufacturing (particularly as a conditioning agent in hair care products).
The ricinoleic acid in castor oil works to inhibit many viruses and bacteria, and as castor oil is able to penetrate skin tissue deeply, this makes it an effective treatment for acne.
Castor oil's ability to penetrate more deeply than any other essential plant oil makes it an excellent way to keep skin looking youthful and fresh. You can rub in castor oil all over your face, but as it's extremely thick and sticky, use sparingly. A little goes a long way! You can rinse this off after 2-3 hours, but you can always keep it on for longer if you feel comfortable.
Castor oil's unrivalled deep tissue penetration helps to soften and remove both external and internal scars, like those that form following surgery.
Castor Oil thickens eyelashes and eyebrows - Rub a little castor oil over the base of your eyelashes before bed. This prevents thinning and promotes rapid growth, leading to thicker and fuller lashes. In fact, many commercial products for eyelashes contain castor oil. To thicken sparse eyebrows, rub a little castor oil over the brow line before bed.
Castor Oil prevents hair loss and regenerates hair - The anti-bacterial and anti-fungicidal properties of ricinoleic acid in castor oil protects the scalp and hair from infections that can cause hair loss. The omega-9 fatty acids in castor oil also nourish the hair and prevent the scalp from drying. Rubbing castor oil on your scalp and the roots of your hair will regenerate new hair growth within months. This will also thicken thinning hair. Mixing castor oil with coconut oil will make it easier to apply and coconut oil is very good for restoring damaged and weak hair because of its high nutrient content.
Shelf Life: Users can expect a shelf life of 1 year with proper storage conditions (cool, out of direct sunlight). Refrigeration after opening is recommended.