---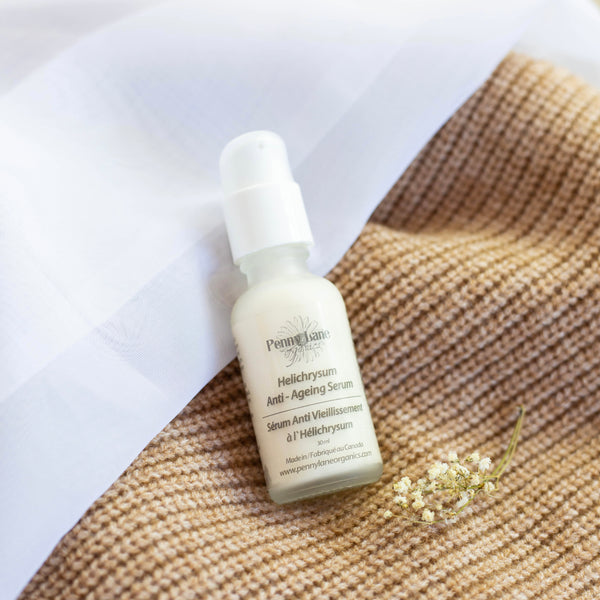 Helichrysum Serum Anti-Aging Restorative
Regular price $68.00
Helychrisum serum infuses the skin with rich botanical nutrients which aid in cellular repair, improve skin elasticity and noticeably rejuvenate the skin. As we age our skin loses the ability to produce collagen and as a result skin loses its elasticity, begins to sag, loses its radiance and becomes wrinkly. 

Especially recommended for dry, sensitive, aging and sagging skin. Use it on it's own or to complement your day or night cream!
Helychrisum Italicum essential oil is known in cosmetics industry for its ability to restore collagen and is effective for acne, bruises, boils, burns, cuts, dermatitis, eczema, irritated skin and wounds. The oil has rich herbaceous smell that is calming and balancing. Therefore this serum is not "scent free" but the scent will dissipate in 10-15 minutes. 
Collagen in this serum is plant based (from yeast) and Vitamin E is made of NON-GMO Soy bean oil and therefore gluten free.
30ml
Directions:
After cleansing and applying toner, apply a drop of Helychrisum serum over wrinkle prone areas. Serum can be also applied over the whole face and the neck to slow down the aging process and soften the look of wrinkles.

Store in dark and cool place.
Ingredients:
Certified organic Jojoba Oil (Simmondsia chinensis), Water (Aqua), Rosehip oil (Rosa rubiginosa), Mango butter (Mangifera indica), Vegetable Glycerin, PseudoCollagen (Yeast Extract), Phytokeratin (Hydrolized Vegetable Protein), Natragem EW (EcoCert certified emulsifying wax for use in natural and organic products), Geogard Ultra (EcoCert certified preservative for use in natural and organic products), Helichrysum Italicum essential oil, Vitamin E (Tocopherol).